Spend some time snuggling with our Miniature Donkeys! Jack and Mabel are extremely affectionate and eager to help you find peace in their presence.
You may like to practice mindfulness in the donkey pen while Jack and Mabel stand with their heads in your lap or lay next to you in the grass. Grooming tools and treats for the donkeys are available in the donkey enclosure. The donkeys are available for visits May-October.
If your scheduled visit is rained out, it will be rescheduled for the next available day for no extra fee.
Get a feel for the experience
one-on-one encounter
Up to two individuals can schedule a 30-minute or 60-minute snuggle session. The cost is $20 for a half-hour and $40 for a full hour.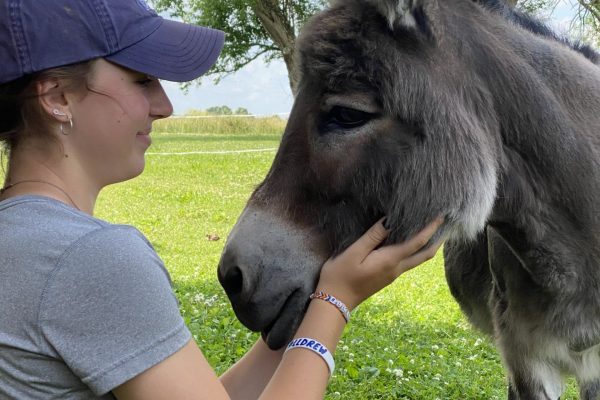 Family Encounter
Families with up to 3 children may enjoy visiting the donkeys together. Our priority is safety at all times for children and donkeys. A parent or guardian must be present at all times within the donkey enclosure. The cost is $20 for a half-hour session or $40 for a full hour. For families with more than 3 children, there is an additional charge of $5 per child.
field trips
Our field trips are designed for small classes of up to 10 students. We welcome homeschool co-ops and at-home learners as well! Field trips last an hour and consist of 20 minutes with the donkeys, a tour of the ranch, and a demonstration with one of the horses in the round pen. All the while we will teach the students what goes into running the ranch! We have an informative hand-out that teachers can then build lessons with once they are back in class; it covers topics from math to personal development. Field trips cost $5/student with a minimum of $40 for the hour.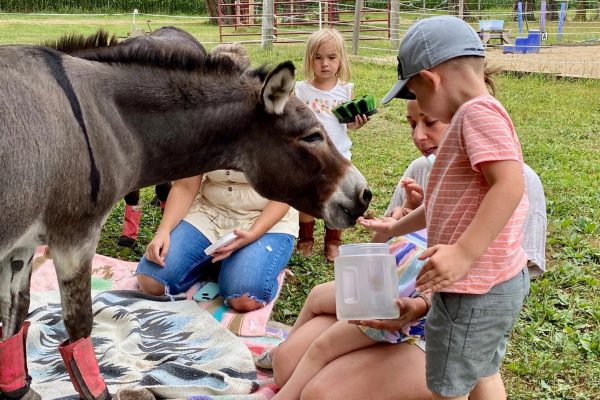 Schedule your visit today!
All of the proceeds from the Donkey Calm program support our mentoring sessions.